The Food Culture of Turin
Turin is not only a city of art and culture, but also a city of food. With its rich culinary tradition and love for quality ingredients, Turin is a paradise for foodies. In this article, we'll take you on a journey through the city's food culture and explore some of the most delicious and interesting aspects of Turin's gastronomy.
1- Slow Food: The Movement Born in Turin
The Slow Food movement, which promotes local and sustainable food, was born in the Piedmont region in the 1980s. Its founder, Carlo Petrini, is from Bra, a town near Turin. Today, the Slow Food movement has spread all over the world, but Turin is still an important hub for the movement, with the Slow Food University and the Salone del Gusto, a biennial food fair that showcases the best of traditional and innovative food.
Slow Food is a movement that is deeply rooted in the local culture and traditions of Turin. To truly understand and appreciate what it represents, one must have a deep connection to the city and its people. Only a person from the Turin area (people living in Bra say they created the term, but it is not clear), who has grown up surrounded by its rich food culture and knows its history and traditions intimately, can truly transmit the essence of Slow Food. Being Italian is not enough; it's the unique perspective of a local resident that makes all the difference.
2- Bicerin: The Quintessential Turin Drink
When in Turin, you must try bicerin, a traditional drink that has been enjoyed by locals since the 18th century. Made with layers of espresso, hot chocolate, and whipped cream, bicerin is a true indulgence for your taste buds. It's said that Cavour, one of Italy's founding fathers, used to start his day with a bicerin at the famous café Al Bicerin in Piazza della Consolata.
This traditional Piedmontese drink has been a favorite among locals and visitors alike for centuries. Over the years, several brands have emerged, each claiming to offer the most authentic and delicious version of the drink. Some of the most well-known brands of Bicerin include Al Bicerin, Bicerin Di Giandujotto, and Caffè Torino. It's safe to say that the overall market for specialty coffee and artisanal drinks has been on the rise in recent years, and Bicerin is no exception.
If you're looking to try Bicerin, there is no better way to experience it than by visiting Turin, where it originated. While many cafes and restaurants in the city serve their own version of the drink, it's worth seeking out one of the historic establishments that have been making Bicerin for generations. Not only will you get to taste the most authentic version of the drink, but you'll also be able to soak up the ambiance and history of Turin's vibrant cafe culture.
3- Truffles: The Black Gold of Piedmont
Turin is located in the Piedmont region, famous for its truffles. In fact, the white truffle of Alba, a town not far from Turin, is considered one of the best truffles in the world. In Turin, you can find truffle-based dishes in many restaurants, from pasta to risotto to meat dishes.
Turin was home to the world's largest truffle, a white Alba truffle weighing in at 1.5 kg. It was auctioned off in 2018 for a whopping 75,000 euros. Turin is also known for its truffle fairs, which take place in the nearby town of Alba. The biggest of these is the Fiera Internazionale del Tartufo Bianco d'Alba, or the International White Truffle Fair of Alba. It attracts truffle enthusiasts from all over the world and is a must-visit event for anyone interested in truffles.
Truffle consumption has been on the rise in recent years, with demand for these rare and exotic fungi increasing all over the world. However, the best way to truly experience truffles is to go to the source and try them in their natural habitat. In Turin and the surrounding area, there are many truffle festivals and events where you can taste these delicacies and even participate in truffle hunts with local experts.
4- Vermouth: Turin's Signature Aperitif
Did you know that vermouth was invented in Turin in the 18th century? This aromatic fortified wine, infused with botanicals and herbs, is a staple of Turin's aperitivo culture. In the past, vermouth was considered a medicinal drink, but today it's enjoyed as a pre-dinner drink, often served with a slice of orange and a green olive.
Turin is known for its production of vermouth, a fortified wine infused with various botanicals, spices, and herbs. Among the local brands that are popular in Turin are Carpano and Martini & Rossi, which have been producing vermouth for over a century. These brands offer a wide range of flavors, from the classic sweet red vermouth to the more bitter and dry varieties. You can even visit the Carpano Museum in Turin to learn more about the history and production of vermouth. Sampling the local vermouth is a must-do when in Turin, as it offers a unique taste of the city's culinary culture.
5. Chocolate: Turin's Sweet Obsession
Turin has a long-standing love affair with chocolate. In the 18th century, Turin was one of the first cities in Europe to produce chocolate, and today it's still a top destination for chocolate lovers. You can find many artisanal chocolate shops in Turin, such as Guido Gobino and Peyrano.
Turin also boasts a Chocolate Museum that offers a fascinating glimpse into the city's chocolate-making past. At the museum, visitors can learn about Turin's role in the spread of chocolate throughout Europe, as well as sample some of the finest chocolate treats the city has to offer
As you can see, Turin's food culture is rich and diverse, offering a unique culinary experience to visitors. From sweet to savory, from traditional to innovative, Turin's gastronomy has something for every taste. So, don't miss the chance to explore the city through its food and indulge in its delicious flavors.
Turin, a city of Food and an attractive Tourist destination
Our expert Art Nouveau private guides in Turin not only offer you a unique insight into the city's stunning architecture, but they can also recommend the best places to eat and drink. Whether you are looking for a cozy cafe or a top-notch restaurant, they will tailor their recommendations to your preferences, ensuring that you have a truly authentic culinary experience in Turin.
From savoring the rich flavors of the famous local chocolate to indulging in the exquisite taste of truffles, from sipping on the finest vermouth to relishing the creamy texture of bicerin, our guides can lead you to the best spots to satisfy your gastronomical cravings.
And if you are feeling adventurous, they can also help you discover the joys of the Slow Food movement, a culinary philosophy that emphasizes the use of locally-sourced, high-quality ingredients and promotes sustainable food production.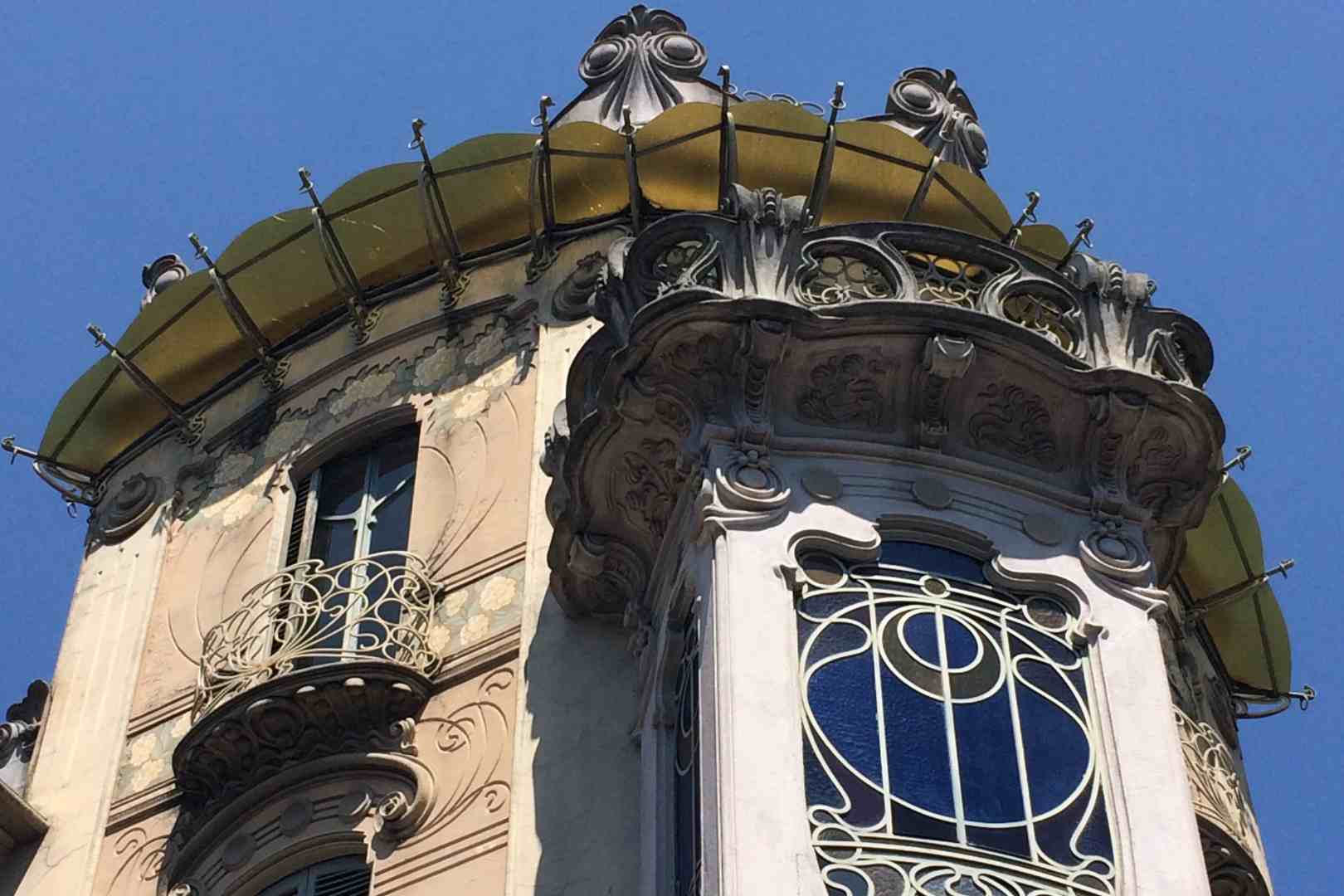 Travel to an art nouveau paradise at your fingerstips
Turin is a city that truly embodies the essence of art nouveau. It is a paradise for lovers of this unique style, and offers a wealth of opportunities to explore it in all its glory. From the stunning architecture to the many art galleries and museums, there is no shortage of art nouveau experiences to be had in Turin.
Walking through the streets of Turin, you'll be struck by the beauty of the buildings that surround you. Art nouveau is characterized by its ornate, curving lines and use of natural forms, and Turin is home to some of the most beautiful examples of this style in the world. The city's art nouveau architecture is truly breathtaking, and it's impossible not to be swept away by its charm and beauty.
In addition to its stunning architecture, Turin is also home to numerous art galleries and museums that showcase the best of art nouveau. Whether you're interested in paintings, sculptures, or decorative arts, there is something for everyone to enjoy. Some of the most famous art nouveau collections in the world can be found in Turin, making it a must-visit destination for art lovers.
But Turin is not just a paradise for art nouveau enthusiasts. It is also a city that is renowned for its culinary delights, from chocolate to vermouth to truffles. A private tour with a local guide can take you on a journey through the city's best cafes and restaurants, where you can taste the many local delicacies and discover the hidden gems that only a local would know about.
Whether you're a lover of art, architecture, or food, Turin is a city that has something for everyone. And with our art nouveau private tours, you can experience it all in the company of an expert guide who can show you the best that this beautiful city has to offer. So why not plan your visit to Turin today, and discover this art nouveau paradise at your fingertips?
CHECK HERE for our selection of art nouveau private tours in Turin.
If you're looking to explore more of Italy's art nouveau architecture, we also offer private tours in Milan. And if you're already in Turin, getting to Milan is easy – it's just a short 1-hour train ride, a 2-hour drive, or a 2.5-hour bus ride away. CHECK HERE TO DISCOVER our art nouveau private tours in Milano.