Charles Rennie Mackintosh and the Glasgow Style exhibit opens at Albuquerque Museum -October 30th
The American Federation of Arts presents Designing the New: Charles Rennie Mackintosh and the Glasgow Style, an immersive exhibition that showcases Charles Rennie Mackintosh as an architect, designer and artist, and contextualizes his production within a larger circle of designers and craftspeople in Scotland's capital. The exhibition opens at Albuquerque Museum on October 30, 2021. Previously, the Frist Art Museum in Nashville had this exhibition on diplay from June 11 through September 12, 2021.
Combining influences from the Arts & Crafts movement, Celtic Revival, and Japonism, Glasgow Style artists in Scotland created their own modern design aesthetic, synonymous with sleek lines and emphatic geometries expressed in a wide range of materials.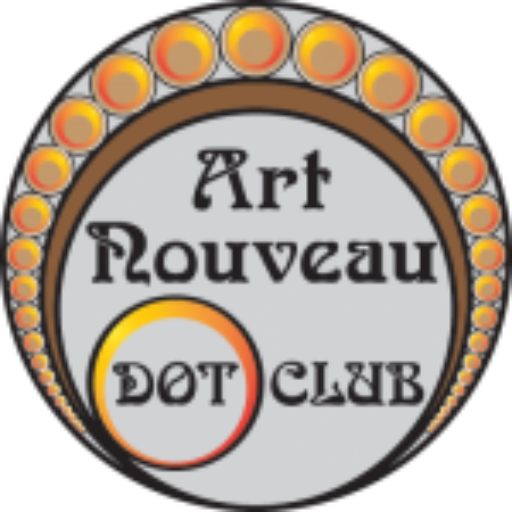 Celebrating the 150th anniversary of Charles Rennie Mackintosh's birth (1868-1928), this exhibition showcases works of this architect, designer and artist, the greatest exponent of the Glasgow Style and who was the leader of the group called "The Four". Mackintosh worked most closely with his wife, Margaret Macdonald, Margaret's sister, Frances Macdonald and Frances' husband, James Herbert McNair. They met as students at the progressive Glasgow School of Art in 1892.
A significant number of women artists played integral roles in the movement. "Glasgow was a progressive city, especially in terms of public education, and some women were able to forge careers as artists. Women teachers and students at The Glasgow School of Art often continued working even after they married and had children," says Kennedy. A few of these same women were also suffragists (full voting rights were not granted to women in Great Britain until 1928). THE PAINTING ACCOMPANYING THE ARTICLE WAS PAINTED BY HIS WIFE.
The exhibition presents 165 works of fine and decorative art, including architectural drawings, books, ceramics, furniture, posters, textiles, and watercolors, drawn from Glasgow's most significant public and private collections.
Designing the New: Charles Rennie Mackintosh and the Glasgow Style is a touring exhibition co-organized by Glasgow Museums and the American Federation of Arts. Support for the US national tour is provided by the Dr. Lee MacCormick Edwards Charitable Foundation. The exhibit is a landmark in the study of his career and offers a rare opportunity to see the art of Mackintosh and his contemporaries outside of his native city.
As the most ambitious and inventive proponent of the Glasgow Style, Mackintosh is often compared to Frank Lloyd Wright, who was almost his exact contemporary. Mackintosh made his mark on Glasgow and its environs with his designs for a variety of buildings, including a church, houses, offices, schools, tearooms and, most important, the Glasgow School of Art, which is currently being rebuilt after two devastating fires. "Interest in Mackintosh has increased over the last thirty years, and architecture and design enthusiasts go on pilgrimage to Glasgow to see his buildings," says Kennedy.
The show's chronological narrative spans Mackintosh's entire life, presenting his work in the context of his predecessors, contemporaries, patrons, and friends in Glasgow. "Informed by decades of research by curator Alison Brown of Glasgow Museums, this exhibition offers a penetrating new interpretation of Mackintosh that shows he was far from an isolated genius," says Kennedy. Mackintosh worked most closely with his wife, Margaret Macdonald; Margaret's sister, Frances Macdonald; and Frances' husband, James Herbert McNair. They met as students at the Glasgow School of Art in 1892 and together were known as The Four. "Learning their craft in the school's technical studios, they often worked collaboratively and applied their deliberately eccentric and bold artistic vocabulary to all fields of decorative design," says Kennedy.
Among the highlights of the exhibition are interior design elements for entrepreneur Catherine Cranston's famous Glasgow city-center artistic tearooms, including the monumental frieze The May Queen and an aluminum and copper pendant light. A high-backed chair that Mackintosh designed for the Hill House in Helensburgh—considered to be his domestic masterpiece—is one of several iconic chairs in the exhibition. His chairs entered mainstream pop culture with appearances in movies such as The Addams Family, Blade Runner, and Star Trek, and Madonna's "Express Yourself" video.
To get more information in the Alburquerque Museum webpage on the exibit CLICK HERE. Museum is located at 2000 Mountain Road NW Albuquerque NM 87104. Albuquerque Museum has served as the city's cultural center since 1967. Located in the heart of Old Town, the Museum is a leading institution for art, history, and culture in the Southwest. Albuquerque Museum is a division of the Department of Arts & Culture, City of Albuquerque.
About Charles Rennie Mackintosh
Born in Glasgow in 1868 and died in London in 1928. He manifested his vocation as an architect at an early age, which was opposed by his father will, and for this reason he had to study at night and combine his studies with professional work. However, thanks to his talent he was able to make his way quickly through awards and scholarships, one of which allowed him to complete his training on the continent.
On his return from Europe, he joined the Honeyman & Keppie studio and, shortly afterwards, founded the group The Four with J. H. MacNair and the sisters Frances and Margareth MacDonald, whom he later married.
The group was dedicated in particular to the design and decoration of all kinds of objects (glass, posters, plaster, metal) and quickly established itself with its abstract style and great linear purity. The Four's participation, in 1895, in the Arts & Crafts exhibition in London led to its international launch, thanks to the favorable articles written by the famous critic Gleeson White, who was particularly impressed by the furniture designed by Mackintosh, made of natural oak and ornamented with details of great simplicity.
At the same time, Mackintosh was engaged in the construction of the Glasgow School of Art and several other buildings in and around Glasgow. The style of these works is more easily assimilated with the stylized tendency of the pictorial works of the Pre-Raphaelites than with the modernist architecture then developing in Europe. They are essentially characterized by the use of the straight line, the cubic form and the combination of symmetry and asymmetry.
After the war, when the new architectural tendencies were affirmed, Mackintosh received no more commissions and retired to Port-Vendres, France, where he devoted himself to painting.
Glasgow School of Art's, Charles Mackintosh architectural masterpiece building in Glasgow, was destroyed twice in the last decade, afer expensive reconstructions. Brad Pitt, an Art Nouveau admirer, was one of the famous people that helped raising the 20 million pounds required to restore Charles Mackintosh building. More info in the following LINK.